New Release: SARDU multiboot builder 3.0.0.0 beta for Linux
I'm proud to announce the first beta of SARDU 3.x multiboot builder that works under Linux.
This release is a porting of the Windows version (3.0.0.0 beta 6) and preserve the number of version. Is the best solution for test the Live of Linux, use Rescue CD and have a lot of utilities in a pen drive.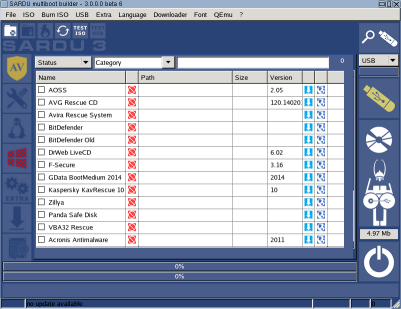 SARDU multiboot builder support the boot from EFI, at this moment only a few of live are supported (we have to add all ISOs in next releases).
SARDU 3 for linux need two dependences:
libx11-6:i386
libgtk2.0-0:i386
In Debian based you can launch this command from a console:
Code: Select all

sudo apt-get install libx11-6:i386
sudo apt-get install libgtk2.0-0:i386

This version works fine until 30/12/2014 (we'll release new version befor this date

)
Let us know if all works fine

Davide Costa
P.S. Thanks to Matteo Saderi for developing and to Silvio Pilia and Mauro Casula for beta testing