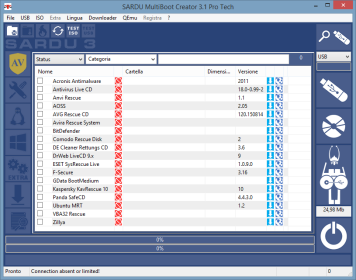 How to use SARDU multiboot builder? How to get help and technical assistance?
The Forum

with all discussion about use and problems
FAQ
Q) Where put the iso of the software?
R) User can choose the folder when put the ISO. The default folder is ISO, into the SARDU 's folder.
Q) How can i see where i set the ISO folder?
R) Passing the mouse over the icon ISO appears a tooltip with the path. Alternatively you can go to report and press settings
Q) SARDU don't recognizes my USB unit, why?
R) SARDU manage only units FAT32 or NTFS (Menu USB --> Enable NTFS support). Checks if an antivirus is blocking SARDU and if you have all rights. Also check if your drive is blacklisted (Menu USB) .
Q) SARDU knows all the ISO of all the software?
R) NO. SARDU know and build only the ISO of the software in the button
Q) What name should have the ISO?
R) Passing the mouse over the button of software appears a tooltip with the name. The asterisk is a DOS wildcard.
Q) With Sardu I can install Microsoft Windows from usb?
R) YES. With SARDU you can install Windows XP, Vista, Seven and Eight from the same USB and without partitions and knowledge
Q) I can put software not recognized by SARDU ?
R) Yes. User can use folder Extra, with menu file extra.cfg or use the menu 'Extra'
Q) Where is and how to use the extra folder?
R) Folder extra is in the folder ISO. If don't exists File --> Enabled extra. For customize the extra folder , user must have knowledge of multiboot and isolinux.
Q) Extra folder with extra options, menu 'extra' is officially supported?
R) NO! It's only an option for those who have knowledge. I cannot help everyone who ask me how to add an ISO.
Q) How can I burn the multiboot ISO created by SARDU
R) SARDU integrated CD-DVD recording software, check the tab reports
Q) It's possible delete or change the countdown to the default boot?
R) Yes. User can customize or remove the countdown: these choices are in USB Menu.
Q) I have problems with my copy of SARDU, how can I report this?
R) For report any malfunctions read the rules from the forum
Q) SARDU is developped by a team or a software house?
R) NO! SARDU is developped by Davide Costa.
Tutorial
Инструкция на русском:Sardu — мощная программа для создания мультизагрузочной флешки или диска
Video tutorial
English video tutorial
Making a SARDU Boot Disk
Multiple Antivirus Rescue CD - SARDU
SARDU - Shardana Antivirus Rescue Disk Utility
Create a Multi-boot Windows Recovery cd or USB
How To Make Bootable Usb Windows 8.1 flash disk ? HD (Sardu)
French Video Tutorial
Spanish video tutorial
SARDU pendrive
Crear una USB multibooteable con SARDU