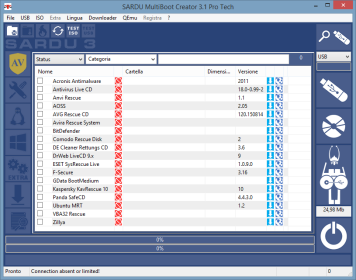 What's SARDU? How to use it?
SARDU is a tool to create a multiboot device. It can quickly build a multiboot UFD (USB Flash Drive) or a multiboot CD-DVD, without user's knowledge in computer science.
SARDU is fully portable, no need procedure of installation, it can be removed simply deleting the folder
Requirements to build a multiboot device:
The archive with SARDU
A FAT32 or NTFS formatted USB
Few minutes of free time and calm
Few minutes of time and a clear mind
Once downloaded the software, execute the extraction into a preferred folder (for example C:\SARDU)
Extract all files, going in the folder, we have to launch sardu.exe and after a few of seconds will appear the GUI above.
Plug the previously formatted USB or other removable support
Press the "search USB" button (in the upper right)
After a few of seconds SARDU will show the "tab report" with all the details of our USB connected, under the button "search USB" is displayed the USB pen in use that you will can change with the appropriate ComboBox.
Make sure to select the correct USB
Our first multiboot USB will be very simple using the default SARDU package
In a later time we could continue to add what we want without the need for Re-delete all.

Press the Button with the logo USB
Will be asked "Are you sure you want to write data in..."
Pressing Yes will start the automatic procedure to build the multiboot. Soon we will be warned that the USB multiboot was created successfully. You are welcome in the group user of SARDU multiboot
Test of multiboot menu USB.
Before to test the USB in one real PC we can test them in one virtual PC integrated in SARDU. QEMU.
Menu QEMU --> Test USB

and.. see the image at the bottom
Now we have to test the mutliboot USB built with SARDU in one real PC.
If you want add others software you have to follow this simply step
Press the button of the software required (if it is not already present* )
Start the download going to the Download TAB
Select (if not selected) the ISO to add to the SARDU multiboot USB
Press the Button with the logo USB for upgrade your SARDU mUltiboot USB
* If one ISO is already present the CheckBox of single software becomes active and selectable. If the software isn't present the checkbox is deactivated