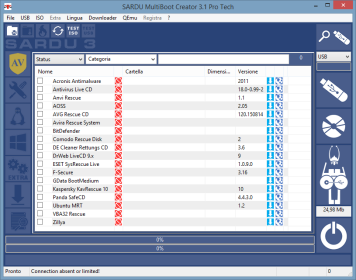 Why should I use SARDU multiple antivirus Rescue Disk?
SARDU is a tool that permit to combine more freeware antivirus Rescue CD system in a single multiboot USB or DVD support to disinfect, repair, administrate one damaged system and data after a crash.
If a computer is infected by viruses so deeply into OS (Windows or Linux) that they cannot be cleaned by one "traditional" installed antivirus software. Best solution is find and remove these threats by booting your computer from the multiboot rescue disk built by SARDU, one rescue disk at time, and running a virus scan of your system to remove infections and all malicious software before Windows or Linux boots up.
The multiboot built with SARDU is one powerful virus, spyware and rootkit cleaner.
If a computer is infected by viruses can occur that Windows to be very unstable, that the antivirus and the downloads of antivirus doesn't works fine or are disabled, that it won't be able to boot.
If you boot the PC from multibootable support with the collections of Rescue CD and removal tools, you bypass the problem and you can disinfect the computer without the risk of getting infected.
You can repair system crashes, return systems to a state where you can operate at full capacity.
SARDU built with a collection of Rescue CD is the best solution for remove malware, viruses, spywares, keylogger or others malicious software from one multiboot USB or DVD.
Multiple Rescue CD: Best scan engine antivirus solution
SARDU manages more than ten rescue disks portable systems. The power of more than ten Rescue CD with the force of more virus scanner engine. You can choose from which antivirus Rescue CD start the PC for the virus scan. All Rescue Disks scans entire system for viruses before OS loads. The Rescue Disk has adaptability for the recovery of both Microsoft Windows and Linux operating systems (FAT32 ,NTFS file systems etc.) even if it cannot be booted anymore, with damaged system, to rescue or recovery lost data or to scan and repair the system for virus infections. Most has ability to automatically update its virus definition and signatures (in ram, will be lost on next reboot) if rescue disk detects internet connection.
These ISO of Rescue CD are almost always based on linux SARDU means that don't conflict and all work, one at a time, in the same media.
All Rescue CD and Rescue Disk freeware in one Multiboot USB or DVD
SARDU helps you in the safety managing antivirus rescue disk like "AVG Rescue CD", "Avira Rescue CD" , "Panda Safe CD", "Trinity Rescue CD", "Windows Defender Offline (WDO)", "BitDefender Rescue CD", "Dr.Web Live CD", "kaspersky Rescue CD" , "Ubuntu MRT ( Malware Removal Toolkit)", "F-Secure Rescue CD" and more.
The multiboot solution with all rescue cd and all rescue disks