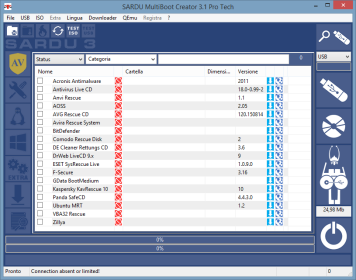 | | |
| --- | --- |
| Step 1 | Download all ISO needed pressing the button reference |
| Step 2 | Build a SARDU multiboot ISO media |
| Step 3 | Burn the multibootable ISO using SARDU or external software |
| Step 4 | Boot your system from the multibootable USB built |
SARDU make a multiboot DVD ISO All in One with multiple recovery CD and recovery disks, antivirus, Linux Live , Windows PE and "Windows Recovery Disk", all multiple Windows installer ( XP, Vista, Seven and Eight) in a few of minutes.
How does SARDU work?
After unzipped the software, the user must download all the ISO images who wants to integrate in the support. For make this, user can press the button reference (with the name of software) and the integrated download manager will take care to download the necessary.
How can I make a ISO CD-DVD multiboot with SARDU?
Pressing the button with the disc, asks us where we want to save SARDU.iso, make sure you have the free space needed. SARDU extract an ISO image at time the needed files, after a careful examination builds the menu and make a multiboot ISO.
SARDU can burn the multibootable ISO CD-DVD with the integrated burning software.
Progress is reported on the 'status', with the progress bar. The buttons turn dark grey if the ISO isn't found or disabled, if found and enabled, after extracting all files becomes green. The focus will turn with the change of category (Antivirus, Utility, Linux, Windows). After a few minutes, depends on the amount of software required, the status of SARDU informs us that ISO has been created successfully. The ISO image must be burned.
WARNING: The copy from a ISO (CD-DVD) to a media USB can not work because the behavior of the software is different between CD and USB.