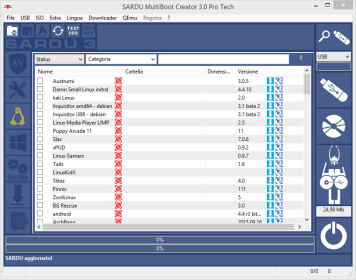 Multiple linux Live in the same media DVD or USB
SARDU is best solutions to have more than ten 'Linux Live' in a single DVD or USB media with multi boot, this was impossible if not for the geeks. Now with SARDU is available to everyone with a few clicks and without knowledge.
The Linux Live is one bootable operating system which runs without installation. With the Linux Live user can fix corrupted hard disk drive or file system, rescue missing data, fix a computer crash, fix Linux boot problems, repair corrupted LiLo or GRUB...
With the distribution Live, the user is able to run the Linux without permanent installation, to evaluate before installing and compare more "distro", allocating the files in RAM.
Mini distributions Linux live
There are mini distributions with which to start a working operating system in seconds, can also be used with outdated PC. There are distributions that employing less than 200 mega, but not for this, are resource-poor. Some are modular and customizable like Nimblex, Slax or xPud and all have a practical GUI (Graphical User Interface). You can use to surf the net, save data, burn.
Different Linux Live
There are live distributions which focused on security and penetration testing like as BackTrack (able to test and crack the wifi) or others with a software suite used for hardware diagnostics, stress testing, certification and benchmarking platform like as Inquisitor or Phoronix Test Suite.
With Limp (Linux Multimedia Player) you can transform your PC as multimedia player. This offer a better interface to play all Video and Audio formats, plus VCD and DVD for watch a movie .....
Linux live to use the Internet anonymously using TOR network, with tails you can leave no trace on the computer you're using
More linux Live in one Multiboot USB or DVD
SARDU can build one USB or DVD support with more Linux Live like "Austrumi", "Backtrack", "Damn Small Linux" , "Fedora, "Inquisitor Live CD", "Limp", "Nimblex", "Phoronix Test Suite", "Puppy Linux" , "Slax", "xPUD","Ubuntu and Kubuntu", "StartOs", "Linux Mint", "Linux Gamers", "Tails", "Android x86"....
The multiboot solution with More Linux Live