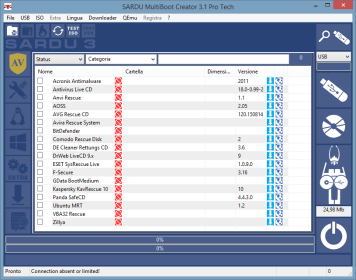 Multiple windows installer
Endless distributions Linux derived
Boot from UEFI
Updated remotely ...
Starting from 9,90 € *
*plus VAT if due

SARDU Multiboot Creator 3.2.2
If you have one older version than 3.2, and have any Windows ISO in the oldest USB built, please rebuild the USB from scratch.
SARDU Multiboot Creator 3.2.2 is 100% clean of virus / toolbars and other crapware
What's the difference between the standard, registered and the PRO versions?
There are many differences between the standard, registered (both for personal use) and PRO version. The sardu_3.exe file is the same but only the registred and PRO version can be updated in real time and get updated link, ISO added and updated
SARDU MultiBoot Creator 3.x doesn't need frequent release becouse NUR functions make SARDU intelligent and remotely upgradeable.
SARDU MultiBoot Creator PRO, In addition to being remotely updated, can build one USB with more Windows Installer like Windows 10 and Windows 8.1, Seven, Vista or multiple version of the same (Home, Pro...); Windows XP and multiple Live Windows PE
In addition to the legacy boot, the SARDU PRO version can build one USB that support the UEFI standard, in this way it makes compatible the unit built with the latest generation of PC, Notebook, Tablet and Mac.
Only the SARDU MultiBoot Creator PRO version can manage ISO extra, the most famous Linux distributions like Debian, Ubuntu, Fedora, Knoppix, Puppit, Sabayon,CentOS, ARch ... and all their derivates which respect their standard.
Then SARDU MultiBoot Creator PRO allow for example all Linux Distributions derivated ISO not natively supported like the i386 versions or localized versions.
As noted above make the software the best, complete and customizable MultiBoot Creator in the world! The best solutions to repair a PC or a Mac with EFI and legacy support or approach in safe and fun learning environment the world of the Gnu Linux Live
Please buy your MultiBoot Creator PRO version or register your copy of SARDU at https://sardu.pro to enable auto update and more additions
NOTE: If you have problems downloading SARDU, please try to stop using your download manager and avoid right clicking on files. Also, check your firewall settings, because some mirrors may require that you do not block the HTTP referers.
After downloading You will be redirected to our Facebook page.
Follow @sarducd
SARDU Multiboot Creator build a multiboot USB stick (or other removable) for PC and Mac with Utilities, Antivirus, Windows PE and Windows XP, Vista, Seven and Eight Installers and all Windows Recovery Disks easily and in a few minutes without make partitions and without any knowledge of Multiboot system.
The media builded with SARDU can be used to boot one PC or a Mac OS X Apple based system
Advanced user can also import customized menus and customized folders and / or ISOs not directly supported.
This makes the SARDU Multiboot Creator as infinitely complete and customizable and best solution for technicians or for those who have to install Windows from USB or repair a PC or a Mac, saving precious time.
The only thing that you have to do is download the ISOs (with the integrated downloader) and press the button to start the creation of the USB multiboot (or other media)
Using the QEMU integrated the user can easily test the 'live' multiboot support created. (pen drive or ISO image)
Multiboot from BIOS legacy or EFI for PC and Mac with Multi OS...
Multiboot with multiple Rescue disks antivirus
After downloading the ISO images, SARDU has a download manager, you can use the engine of more than ten of antivirus (one at time) to remove malware, viruses or others malicious software. This multiple antivirus rescue disc utility considers a great computer troubleshooting tools if your computer can't be start or if is damaged. Best disaster recovery.
Multiboot with hundreds of Utilities
You can create, recover, repair, resize and merge partitions, clone a disk, make an image, recover or change lost passwords, use backup software; run floppy-based diagnostic tools from a DVD or USB stick, recover and save lost photos and documents, and test hardware items such as RAM and hard disks, etc. All do you need for troubleshooting.
Multiboot with multiple Linux Live
You can test the best Linux Live distributions by loading the file system images into RAM so nothing is written to your hard disk, so you can turn your PC to a Media Player, or test LAN or Wi-Fi security using your USB pen-drive or DVD.
You can use more than 100 live Linux, modular distributions such as Slax, xPUD, Ubuntu (and derivated), Fedora, Debian Mint or others from the same USB Flash Drive or DVD.
You can build one Live USB stick with Ubuntu and Fedora (and derivated) with persistent storage keeping your preferences and data even after reboot
Multiboot with multiple Windows installer or PE or Recovery Disk
You can boot from DVD or USB using 'Windows Live' (Windows PE), so you can perform the recovery disks of Windows, install Windows XP, Windows Vista, Windows Seven, Windows Eight or the technical preview of Windows 10 from one multiboot USB or DVD.
Using the USB media for installation of an operating system takes advantage of greater speed compared to the slower and easily damaged DVD.
SARDU Multiboot Creator PRO wil allows you to install from USB all Windows operating systems as Windows XP, Windows Vista, Windows Seven, Windows Eight and the technical preview of Windows 10 without CD or DVD player. This is the fast solution for tablets and netbooks and the best solution for technicians.
Please add yourself to the Facebook group for follow us.
Please add yourself to the G+ group for follow us.



Stable:
Changelog